Judah Cohen...director of seasonal forecasting:
"Scant early snowfall in Siberia indicates Arctic wind patterns may reduce cold air flows into the Northeast U.S. this winter, contradicting forecasts that a weak El Niño will cause the coldest season in a decade, a climate scientist said.

"Our forecast for this winter is pretty warm," Judah Cohen, director of seasonal forecasting at Atmospheric and Environmental Research Inc. in Lexington, Massachusetts, said yesterday at a conference in New York. "Siberian snow cover has been running well below normal."

"Cohen said a rapid buildup of snow in Siberia this month could alter his forecast that so-called Arctic oscillation patterns will create a warm Northeast.

""In a week's time, Siberia can get enough snow to cover the entire U.S.," he said."
More...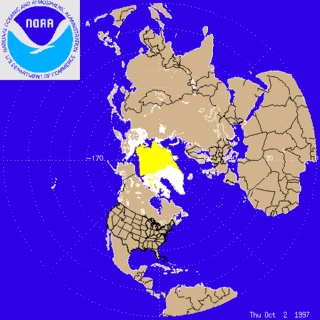 October 2 1997 - 2009
End of October 1997 - 2009
Appears 2008 Eurasian snowcover was fairly low compared to the other images....and last winter was
notable
for a good portion of the forecast area.