The most recent SSW of similar magnitude to the one occurring now...as far as depth of penetration toward the troposphere was
1985.
That event started late DEC 1984 and persisted for about 4 weeks.
Here/s how the 10 mb level looked that go'round...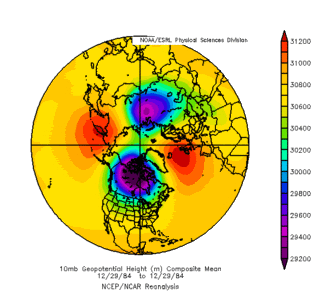 The anti-cyclonic circulation dominated for all of two days.
Contrast and compare to current events...
The 2009 event is much more robust than what happened in 1985....lasting at least 7x longer. Remember also...the on-going SSW is happening while QBO is west (positive) and the solar cycle is at minima...a rare convergence of events...indeed.
Previous posts on the 2009 SSW event
here.